This was the first tech meetup for Syrian Developers community in Malaysia, and we were glad to sponsor and support such event and host it at our place, as part of our support for starting developers and our interest to follow all new and trending tech in web and mobile apps.
The meetup was attended by 50+ Developers, from various tech fields, like Web development, Mobile Apps development and Cloud.
The event had many interesting speakers who talk about great topics, the attendants interact was impressive too.
some interesting meetup agenda: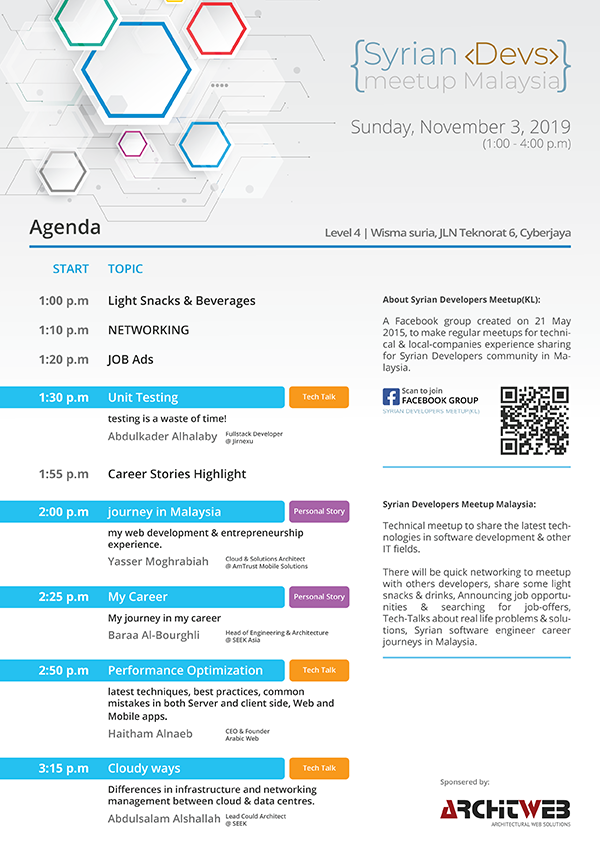 Unit Testing
by Abdulkader Alhalaby, Fullstack Developer @ Jirnexu
Personal Developer Story
a joint talk by Yasser Moghrabiah Cloud & Solutions Architect @ AmTrust Mobile Solutions
and Baraa Al-Bourghli Head of Engineering & Architecture @ SEEK Asia

Performance Optimization
by Haitham alnaeb, Team lead @ ArchitWeb

Cloudy ways
by Abdulsalam Alshallah, Lead Could Architect @ SEEK
We don't waste any opportunity in ArchitWeb to get involved in any aspect of online technologies, as we had great time during this event, we look forward for other similar events to keep our knowledge bank up to date from the best experience developers in the field.
Recent Posts: